New Players and Push for the 1914 Championship
Posted on:

30 December 2014

By:

lrigby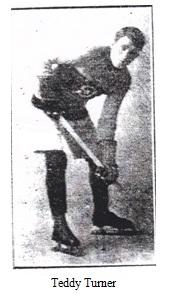 February 1914 brought news of player changes as the Millionaires adjusted to make a run at the Crosby Cup.  On a trip to Halifax, Teddy Turner, who spent most of the season playing in the spare role, was called back to Montreal due to a sickness in his family, Teddy was unable to return to the team.  Sydney fans were delighted to hear that Joe Tetrault was returning to finish the 1914 season with the Millionaires.  Tetrault, after the incident in Sudbury earlier in the season, headed back to Montreal where he played in a few games with the Montreal Wanderers of the NHA before being resigned with Sydney.  A few days later the Millionaires signed a second player, Ray Mallen.  Mallen was released by the Halifax Crescents and was quickly grabbed by Sydney.  Ray hailed from Morrisburg, Ontario and had played for a short time with the Quebec Bulldogs in an exhibition series against the Victoria Aristocrats of the PCHA after the Stanley Cup matches of the previous year.  Ray Mallen came from a hockey family.  His two brothers Jim and Ken Mallen were also playing professional hockey.  His brother, Jim had previously played in Sydney as an amateur in the Cape Breton Senior Hockey League.  Shocking news came the next week when it was announced by the management that Billy Dunphy, a popular local boy, was released by the Millionaires and had signed on with the New Glasgow Black Foxes.  A local sports reporter summed up the disappointment of this news with the following rhyme:
            The magnate got downright mad
                        when he read
            Dunphy to the Black Foxes had fled
                        And he said: !**.**"**;;
The fans did not stay upset about Dunphy's release since the team continued to win with the players they had.  By February 10th 1914, the Millionaires had taken the lead in the league with one win ahead of both the Halifax Crescents and the New Glasgow Black Foxes.  The Halifax Socials were a distant third, only winning one game of their first sixteen.  The excitement that the Sydney fans felt for the team was echoed in the following printed opinion in the Sydney Record.
One of the things that makes for the success of the Millionaires is the lack of dissension among the players.  There was never any trouble or ill feeling among the men and when they are given orders they execute them to the letter.  The boys are being treated well by President Larder and Secretary Buckley and they show their appreciation by their readiness to do anything necessary to advance the interests of the team.  We hate to say it again but for the real thing in sports the palm branch must be passed along to the president of the Sydney Millionaires Hockey Club and his able secretary.