1913 Off-Season -Part 1: National Hockey Commission, Baseball & Moncton Fire
Posted on:

29 December 2014

By:

lrigby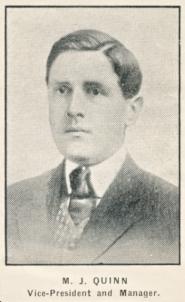 In early April there was a meeting between the executive of the NHA and the Pacific Coast Hockey League that had possible ramifications for the MPHA.  Manager Mike Quinn of the Quebec Bulldogs was on the west coast during the Bulldogs exhibition tour and was in the process of negotiating an agreement to form a Hockey Commission with the Patrick brothers of the PCHL.  It was intended to bring all Canadian professional hockey leagues into an organization under one umbrella, creating a uniform salary limit and setting rules for reserving, trading, selling or buying players.
With a successful first season under their belt and a fan base missing the hockey season, many of the team founders and players turned their energies towards the creation of a professional baseball league in Cape Breton.  The league consisted of teams from various cities and towns in industrial Cape Breton.  The Cape Breton County Baseball league was founded in the Town of Dominion and sported such local hockey stars as Jimmy Wilkie, Toby Macdonald, Hector Mackenzie and Harvey Richardson.  Toby Macdonald was even named the coach and manager of the Sydney ball club.
            Gone again is the gentle spring
                        And winter re-appears;
            But it's nothing like the real thing
                        without the Millionaires.
                                                --Otto B. Kilde
At the beginning of May, two months after the conclusion of the MPHL season, some bad news hit the maritime papers that would put the prospect of a 1914 hockey season in jeopardy.  At one thirty in the morning on May 6th, 1913, a fire was discovered at Moncton's Victoria Rink.  By three o'clock in the morning the rink was completely devastated.  This was very bad news for the league.  Moncton was a very controversial team in the MPHA but drew very well in the other cities.  There was still hope that the Moncton team would find a way to be part of the league, but without a rink that did not seem likely.