Beginning of Professional Hockey
Posted on:

25 December 2014

By:

Anonymous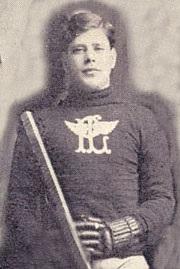 Until 1904 there were no professional hockey leagues,  hockey was played in Canada under the Victorian approach to sports emphasizing amateurism.  The first fully professional league arose in Pittsburgh, Pennsylvania in a place where the shadow of British amateurism wasn't as encompassing as in the Canadian cities.  This initial league was coined the International Professional Hockey League (IPHL) and was the brain child of Joe 'Doc' Gibson, a dentist, who started playing amateur hockey in Ontario and eventually settled in Michigan.  'Doc' Gibson's hockey history included a stint playing for an Ontario Amateur Hockey League team that was expelled from the league for paying it's players. Gibson's professional league began operation in 1904 with five teams consisting of the Calumet-Larium Miners, Canadian Soo, Houghton-Portage Lakes, Michigan Soo Indians and The Pittsburgh Pro Hockey Club.  The league drew from many Canadian players who were banned from Canadian Amateur leagues.  
In its heyday the IPHL began to entice the top Canadian amateur athletes by promising salaries.  Cyclone Taylor was signed to the league for a salary of over three thousand dollars.  Other notable players such as Newsy Lalonde and "Hod" Steward were also signed with IPHL teams.  The IPHL lasted three seasons and was disbanded in 1907 due to the high cost of operation and the fact that some of the larger cities in Canada were professionalizing their hockey teams and drawing away the better players.  Twice IPHL teams put forth challenges for the Stanley Cup but were turned down on both occasions because of their status as professional teams.
Canada's first fully professional league began in 1908.  This league was officially named the Ontario Professional Hockey League but was also referred to as the Trolley League (due to the fact that the teams could travel on Toronto's Trolley system to most of it's games).  The Trolley League was the first fully professional league to mount a challenge for the Stanley Cup.  In 1906 the Montreal Wanderers pushed through a resolution at the annual meeting of the Eastern Canada Amateur Hockey Association (ECAHA) that would allow professional players to play alongside amateurs. Because the ECAHA was the top hockey league in Canada at the time, the Cup trustees agreed to open the challenges to teams with professional players.  This opened the doors for the Trolley League.  It's annual champion generally challenged for the Stanley Cup but were unsuccessful in all attempts.  It was in operation until 1911 when the league disbanded.  Trolley League teams were raided for players by the other professional leagues, including the Moncton Victorias of the Maritime Professional Hockey Association (MPHA) who had signed nearly all of the championship Galt team during the 1912 season.