Games 14 & Resolution of Bribery Charges - The 1913 Season
Posted on:

29 December 2014

By:

lrigby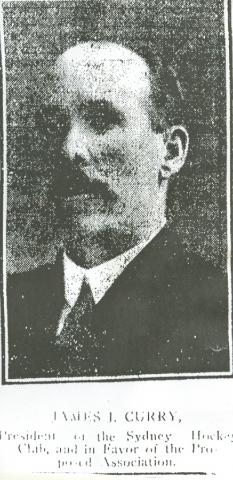 Game 14 (February  25, 1913) - Sydney Millionaires 4 - Halifax Socials 3 - With a four to three overtime victory over the Halifax Socials in Halifax, the Sydney Post declared in a headline "Millionaires get both arms around the coveted Crosby Cup." Also in Sydney's favor was the defeat of the New Glasgow Cubs by the Moncton Vics in New Glasgow.  This meant that Sydney sat alone at the top of the standings with a ten and four record while The Cubs and Vics were tied in second, both with records of nine and six with only two games to go.  The Millionaires had one game in hand and only needed one victory to clinch the Crosby Cup.  What made the situation more interesting was that Sydney's next two games were against Moncton and New Glasgow.  If these two teams could both defeat Sydney it would mean that Moncton and New Glasgow would be tied for the MPHA league lead at the end of the season. Upon arriving home from their victory in Halifax many excited fans met the train at Sydney's ICR station to give the Millionaires a "rousing reception" . 
On the 25th, it was announced that Charlie B Ross and Cap MacDonald would be leaving for Truro to attend the leagues executive meeting to answer to the charges of bribery made against Cap by James Cross of Moncton.  Cap had just missed his third game of the season and stayed back in Sydney preparing his defense while the team had travelled to Halifax for their game against the Socials.  To add insult to injury, two of Sydney's players, Toby McDonald and Jack Fraser, were both fined 5 dollars as a result of verbal abuse they hurled at league President Lithgow when he was spotted in the Halifax Arena Rink press box.  This was inevitability due to the suspension of Cap MacDonald and the reinstatement of Harry Scott. 
The February 26th executive meeting in Truro was attended by C. B. Ross representing Sydney, Chester Gregory of New Glasgow, Mayor Clifford Robinson of Moncton and MPHA President Lithgow.  At the beginning of the meeting Mayor Robinson moved a sweeping resolution to reinstate Harry Scott, exonerate Cap Macdonald and to throw out the Sydney-Moncton protest. This resolution was seconded by Chester Gregory and carried with a two to one vote with only C.B. Ross objecting.  Cap was not given a chance to present his own evidence that he had prepared.  The Millionaires were pleased with Cap's reinstatement but were very suspicious of this series of events.  Sydney's president J.J. Curry summed it up by stating "The whole thing looks like a 'frame up', and they will have to show me before I will believe it is not."  Many of Sydney's fans suspected that Moncton's Cross had fabricated the bribery charge, hoping Sydney would lose without Cap.  Harry Scott's reinstatement was also suspicious since it was supported by The Cub's manager who also had a vested interest in a Sydney loss to Moncton in the upcoming game.  Cap himself was very upset with the outcome stating "No, I am not satisfied with the actions of the MPHA executive at Truro yesterday.  I should have been given the chance to clear myself, which I was ready to do and could have done.  I have been suspended for a week on a serious charge and am not even given a chance to defend myself. The only conclusion anyone can come to is that Mr. Cross did not make an affidavit and the suspension was not only illegal but high handed."