John "Jack" Twaddle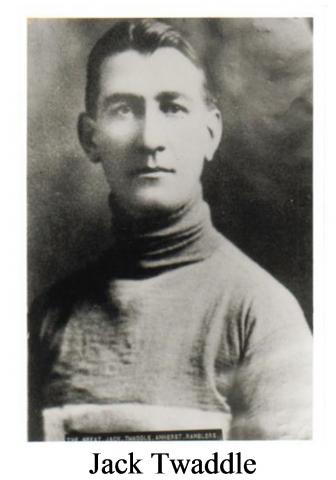 Nova Scotia Sports Hall of Fame Bio:
John "Jack" Twaddle was born in 1882 in Ontario, Canada. He is one of the all-time great in Maritime hockey. In 1899, Twaddle was an outstanding hockey star with teams from Halifax and Amherst in both the Nova Scotia Hockey League and Maritime Independent League. Twaddle spent the 1902 season with the Halifax Crescents before joining up with the Amherst Ramblers in 1903. Jack played the rover position in the old seven-man style hockey, and was one of the best stickhandlers around.

His hockey career ended by an injury he sustained off the ice. While working as a fire fighter, the ladder he was standing on collapsed, leaving him with a severe leg injury that put an end to his days as a hockey player. Although his career as an athlete was over, Twaddle remained heavily involved in the sporting world by coaching and managing several hockey and baseball teams.

Twaddle went on to work for an engineering company before he opened his own business in 1920. He retired in 1948 and passed away on October 14, 1959, in Amherst at age 77. John Twaddle is an Original Sport Hall of Fame Inductee.