Jimmy Fraser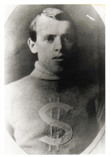 Nova Scotia Sports Hall of Fame Bio:
Jimmy Fraser was born in Antigonish, Nova Scotia. A terrific hockey player, he utilized his speed and great sense of the game to become one of its premier players. He also played cleanly and was not known for roughing his opponents.

Fraser was spotted playing hockey in a minor league in Antigonish when he accepted an offer to play hockey with the famous Sydney Millionaires in the professional league. He was known as one of the top "homebrews" in the old Maritime Professional Hockey League. He was one of the top goal scorers in the league. Jimmy Fraser was a star for Sydney in their challenge for the 1913 Stanley Cup against Quebec.