Jack Campbell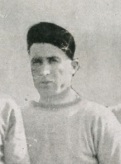 Nova Scotia Sports Hall of Fame Bio:
Jack Campbell was from Westville, Nova Scotia, and was one of the best hockey and football players in the Maritime provinces in the early 1900's. In 1907, Campbell played hockey for the Halifax Crescents – the team that won the Nova Scotia Senior Hockey Championship over the North Sydney Victoria's. In 1908, Jack once again played for the Crescents, but this year they lost the Nova Scotia Senior League Championship to Amherst by a score of 3-2.

In 1910, Jack and the Halifax Crescents faced Amherst for the Nova Scotia Senior Championship and they lost by a humbling 17-0 score. This score doesn't accurately reflect Jack's outstanding ability as a goaltender – he was considered one of the best in the league. In 1911, Jack switched teams and played for the New Glasgow Cubs, along with original Hall of Famers Frank Morrison and Thurston Cooke.

Jack was also an outstanding football player. He played on the 1922 Wanderers' Senior Football Team and that same year the team became the champions of Eastern Canada. Jack Campbell is an Original Inductee into the Nova Scotia Sport Hall of Fame.