Harvey Richardson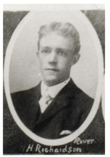 Harvey, born in Sydney, had played the1912 season for the Saskatoon Hockey club.  His team was runner-up to the Prince Arthur Bears who went on to challenge the Ottawa Senators for the Stanley Cup that season. According to Western Canadian Papers Harvey was considered to one of the fastest and brainiest players in the west. Harvey began playing with the Millionaires in 1913 until he broke his leg in a game part way through the season.
Nova Scotia Sports Hall of Fame Bio:
Harvey Richardson was a very solid hockey player from Sydney, Nova Scotia. He played for the 1910 Halifax Crescents team that lost the Nova Scotia Senior Hockey Championships to the Amherst Ramblers by a score of 17-0. Harvey went on to play for the Sydney Millionaires team that challenged the Quebec Bulldogs for the Stanley Cup on March 8th and 10th, 1913. Sydney lost both games of the series, getting outscored 14-3 and 6-2 by Quebec.

Richardson spent the next two seasons with the Sydney Millionaires, playing alongside of fellow Original Hall of Famers William Dunphy, Billy Parsons, and James Wilkie. The Sydney Millionaires were part of the short-lived Eastern Professional League in 1915, and after the league folded Harvey went to play with the Glace Bay Miners of the Cape Breton Semi-Prefessional League.

Richardson finished out his hockey career in 1921 with the Amherst Ramblers of the Maritime Professional Independent Hockey League. Harvey Richardson is an Original Sport Hall of Fame Inductee.