Frank Morrison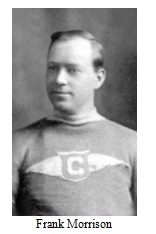 Nova Scotia Sports Hall of Fame Bio:
Frank Morrison was born in North Sydney, Nova Scotia. He was one of the best goaltenders in both the Maritime Professional League and the Ontario "Gold Belt" League. "Stonewall" Morrison played his best hockey with teams from New Glasgow.

The best club he played for was the New Glasgow Cubs. The entire team was made up of players with star-quality, and any one of them could have played in the NHL. In fact, it was said that the team itself could have been competitive in the NHL.

Frank was a brilliant goalie in the Maritime League and was always on the All-Star Team during his years of play.

He possessed National Hockey League ability, but never accepted any offer to play at that level. While in Cobalt, at the time of the Canadian gold rush, Morrison was approached by many NHL teams, including the Montreal Canadiens. George Kennedy wanted Morrison to be a part of his "Flying Frenchmen" Canadiens, but Morrison decided to return to Nova Scotia, because of his love for his home province.

After Morrison retired from hockey he moved to Michigan, but he will always be remembered as the great goalie from New Glasgow in the Old Maritime League. Frank Morrison is an Original Sport Hall of Fame Inductee.