Chester Greggory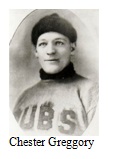 Chester Greggory was a player and a manager for the New Glasgow Cubs.  He was instrumental in Sydney's bit to get a franchise.
Nova Scotia Sports Hall of Fame Bio:
Chester Gregory was born in Charlottetown, Prince Edward Island. In 1903, Gregory began playing hockey as a young boy with the Highland Brigade in Charlottetown. In 1905, the Gregory family moved to New Glasgow where he began playing for various New Glasgow clubs. Between 1905 and 1910 he was a member of four championship teams: Moncton, New Glasgow, Stellarton, and Glace Bay and was given the nickname "Old Fox" by his peers. It was in 1910 that Gregory turned pro with the very powerful New Glasgow Black Foxes Hockey Team of the Nova Scotia Professional League.

Gregory's career highlight was playing in the old National Hockey League. He "rose to hockey greatness from a humble beginning in his native Charlottetown as he racked home a countless number of goals…" He was a hockey player who "knew exactly how to put the puck in the net." Gregory retired from playing hockey in 1928, but continued to be involved in sports. He coached hockey in Charlottetown and at St. Francis Xavier University. Chester Gregory died on November 5, 1966 at the age of 82. He is an original Sport Hall of Fame Inductee.